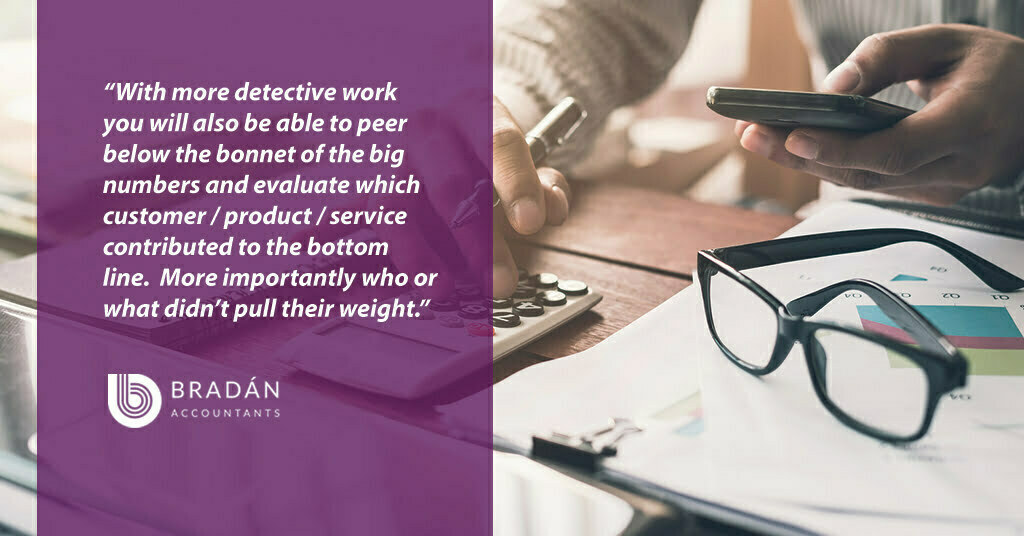 Now that my Christmas goose is well cooked, drawn and quartered and the heartburn has dissipated it's the time of year to reflect and ponder on the year gone by and the year to come. Thinking about your finances through the prism of past present and future can ground it more with reality in your mind
Past  – what just happened?!
The P&L is the grim reaper that assesses the year in cold black and white (or red).At the end of the day the bottom line is what your business is sustained on. With more detective work you will also be able to peer below the bonnet of the big numbers and evaluate which customer / product / service contributed to the bottom line. More importantly who or what didn't pull their weight. This information is useful when it is fresh and served within 3 weeks of the month end date otherwise it can become stale and of less value.
Present – where are we at?
The Balance sheet is where you are right now. "Taking stock" is a phrase that most people understand intuitively and the fruits of this make up the balance sheet. The cash in the bank, the money owed from customers less what you owe is your liquidity. Your net assets is the figure at the bottom where everything ends up, often the same as net worth but it  may differ in significant ways like….
..if you can value the goodwill of your business or the premium that a buyer might pay. This could be the potential value of your recurring sales or profits by a multiple typical in your industry.
Future  – where are we going now?
At the very least a simple budget for the year ahead that translates "the plan" into financial terms. You will most likely learn more from putting it together than the final document.
This may be as easy as last year's P&L with a few tweaks or a sophisticated model predicting all manners of scenarios. This is the first step for keeping you honest to yourself and assess if your financial goals are being achieved (see Past above)
Belt and braces cashflow management is unavoidable in a lot of businesses so you need to pay attention to credit control and your spending habits. A rolling monthly (or weekly) cashflow spreadsheet is a must for a lot of businesses. There are also some powerful tools with AI and machine learning being built in the xero eco-system that we are learning to use and make life easier.
Maybe this will help you see financial numbers in a new context even for a moment. The future bit is the most exciting because it is describing a brave new world. Much better to be equipped with a map and flashlight than working in the dark, also better for the heartburn / (heartache).