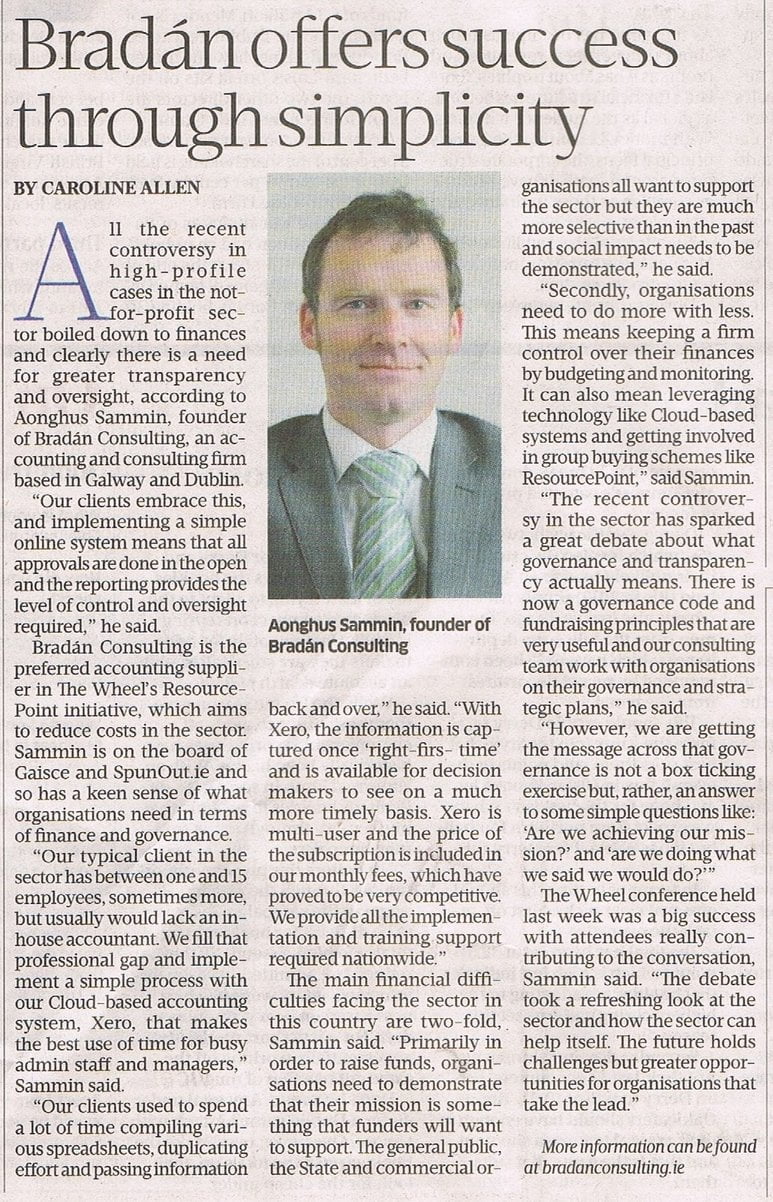 Not For Profit: Bradán offers success through simplicity
03:55, 25 May 2014 by Caroline Allen
All the recent controversy in high-profile cases in the not-for-profit sector boiled down to finances and clearly there is a need for greater transparency and oversight, according to Aonghus Sammin, founder of Bradán Consulting, an accounting and consulting firm based in Galway and Dublin.
"Our clients embrace this, and implementing a simple online system means that all approvals are done in the open and the reporting provides the level of control and oversight required," he said.
Bradán Consulting is the preferred accounting supplier in The Wheel's ResourcePoint initiative, which aims to reduce costs in the sector. Sammin is on the board of Gaisce and SpunOut.ie and so has a keen sense of what organisations need in terms of finance and governance.
"Our typical client in the sector has between one and 15 employees, sometimes more, but usually would lack an in-house accountant. We fill that professional gap and implement a simple process with our Cloud-based accounting system, Xero, that makes the best use of time for busy admin staff and managers," Sammin said.
"Our clients used to spend a lot of time compiling various spreadsheets, duplicating effort and passing information back and over," he said. "With Xero, the information is captured once 'right-firs- time' and is available for decision makers to see on a much more timely basis. Xero is multi-user and the price of the subscription is included in our monthly fees, which have proved to be very competitive. We provide all the implementation and training support required nationwide."
The main financial difficulties facing the sector in this country are two-fold, Sammin said. "Primarily in order to raise funds, organisations need to demonstrate that their mission is something that funders will want to support. The general public, the State and commercial organisations all want to support the sector but they are much more selective than in the past and social impact needs to be demonstrated," he said.
"Secondly, organisations need to do more with less. This means keeping a firm control over their finances by budgeting and monitoring. It can also mean leveraging technology like Cloud-based systems and getting involved in group buying schemes like ResourcePoint," said Sammin.
"The recent controversy in the sector has sparked a great debate about what governance and transparency actually means. There is now a governance code and fundraising principles that are very useful and our consulting team work with organisations on their governance and strategic plans," he said.
"However, we are getting the message across that governance is not a box ticking exercise but, rather, an answer to some simple questions like: 'Are we achieving our mission?' and 'are we doing what we said we would do?'"
The Wheel conference held last week was a big success with attendees really contributing to the conversation, Sammin said. "The debate took a refreshing look at the sector and how the sector can help itself. The future holds challenges but greater opportunities for organisations that take the lead."
More information can be found at bradanconsulting.ie